The King of Red Wines, Cabernet's reputation was established decades ago by the great estates of Bordeaux. Grown on a select portion of our vineyard this select 3 acres was designed to enhance the proper climate, heat and sun conditions that best suit the grape's personality. The climatic conditions from which our wine is grown allows for a 30 degree change from dawn til dusk, thus allowing the grape to mature to its full personality. As the fruit matures through the growing season, water is reduced to ensure the grape reaches it full capacity for flavor similar to the method used in the Bordeaux areas of France. The results are a true vintner's estate wine that will please the sophisticated palate of true wine connoisseurs.
Pinot Noir: Wins Awards Two Years in A Row
Pinot Noir is a black wine grape variety of the species Vitis vinifera. The name is derived from the French words for "pine" and"black" alluding to the grape variety's tightly clustered dark purple pine cone-shaped bunches of fruit. Our style of Pinot was cultivated similar to the origins of Burgundy Noir which is the original French version of this varietal, thus the results are a darker intense flavor. Grown on the hillsides of De Luz California in a higher elevation, where the grape can cultivate at a slower rate, the vine gets the right amount of light, carefully watched to ensure it is not venerable to adverse conditions. As the Pinot Noir grape is a smaller grape with less yield and in turn this makes Pinot Noir by description a more expensive grape to grow and produce, the winemakers has carefully selected the best yeast for the final preparation of the wine. The results are rich and complex to the palate, and we feel has truly captured what can be describes as an award winning Pinot. With a limit of 75 cases a year our Pinot Noir will become a wine every collector should have in their cellar.  Sorry, but this fantastic 2010 wine is Sold Out!
De Luz: Award Winning Dessert Style Wine
In it's first year pre-release competition, DeLuz was a  Silver Medal Winner at the San Diego County Fair and an Honorable Mention Award Winner at the Orange County Fair where it compteted against over 200 vintages. In 2012, De Luz was awarded a Bronze Medal in its first International Wine Competition held in Finger Lakes, New York.   De Luz translation in English means "of light" or "clarity". We have prepared "De Luz" along the lines of two things that a connoisseur thinks of when they think of clarity and brightness; Diamonds and fine liquor. We had in mind with our preparation of De Luz a unique taste that would be savored and caressed. A taste that would linger with the "fait accompli" that your palate has been satisfied. An affair that would linger long past the experience itself and leave you longing for more. "De Luz" an experience that never leaves you. 
De Luz is a unique combination of cabernet grape and dragon fruit, with limited bottling of 80 cases. 
Blackbird: Named "Best Merlot" at Winemakers Challenge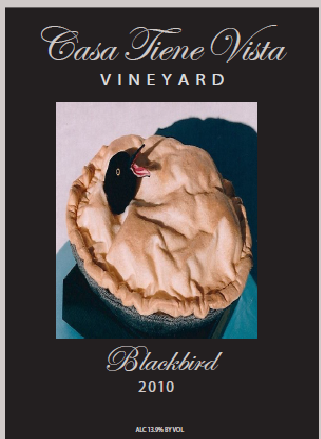 Blackbird is a full bodied wine rich in flavors of berry, plum and currant produced from the merlot grape.   Great upfront nose with a peppery finish. This wine tends to have a black blue hue , with legs that go on forever. This wine has great finesse as well as potential for fine ageing. The name Merlot is thought to be derived from the old French word for young blackbird. Merlot, adiminutive of merle, the Blackbird (Turdus Merula), is reminiscent of the color of the grape. Aged in Oak this rich bodied wine is perfect with meats.
Sir Charles Cabernet: Multiple Award Winning Wine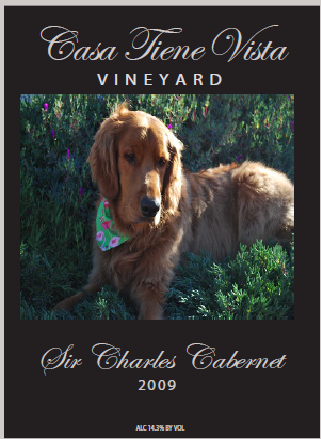 Aged in Oak, this is a very rich bodied wine. Our Cabernet is well-balanced and has both a good start and an excellent smooth finish. It is a Cabernet that can age in a wine cellar for a decade. This wine is strong bodied and deep in purplish color. This is the type of Cabernet Sauvignon that any serious collector would want for their collection. This wine will lay in a cellar and only improve over time. Perfect with meats.
Casa Tiene Vista is proud to present the most recent addition to the City Lights brand of everyday wines. Our 2012 Pinot Noir was grown in the rolling hills of DeLuz, where the cool morning ocean breezes combined with sunny days makes for ideal growing conditions for this grape. The results are a medium bodied wine with aromas of black cherry, raspberry and current. This wine pairs well with light meats, aswell as seafood, pasta and cheese platters.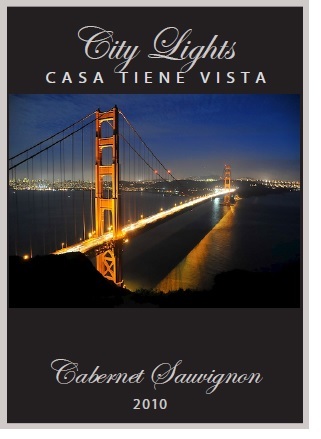 This rich-bodied Cabernet has a deep color with aromas  of vanilla, oak, light leather, and a buttery taste, combined this with a crisp smooth finish. It has a round mouth feel and a long after taste.  Perfect with pork and red meats. City Lights is our new release for every day consumption but maintains the strict quality standards of our higher end Casa Tiene Vista wines. This is the first in a collector series of bottles. Not only is the wine enjoyable to drink but will be a fun to collect and showcase in your cellar.
City Lights Chardonnay - Award Winning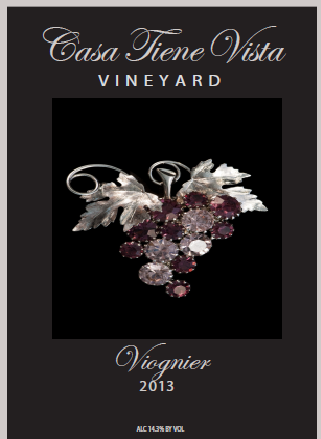 This 2010 Viognier takes things to another level. Mint, white flowers, pears and peaches are some of the notes that emerge from this transparent, weightless wine. There is plenty of richness but remain light on the palate. A beautifully chiseled finish rounds things out nicely and leaves you with a stone fruit finish. The first taste is lush and opulent with exuberant fruit, sometimes slightly sweet. This viognier has a fantastic nose, stone fruit aroma, and a smooth buttery finish. It does well with lobster, crab and white fish. Use it as an apéritif as an alternative to Chardonnay.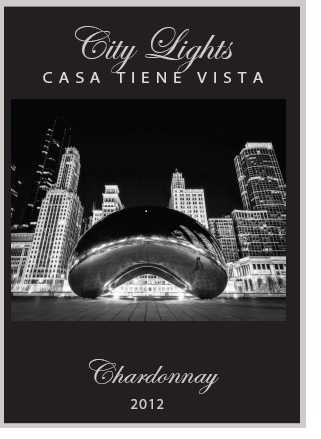 Medium bodied, no oak Chardonnay, with a light golden color and aromas of tropical fruit & honey with a buttery taste and a crisp smooth finish. It has a round mouth feel and a long after taste.  Perfect with fish and white meats. City Lights brand is our new release for every day consumption but maintains the strict quality standards of the higher end wines from Casa Tiene Vista Vineyards.This is the first in a collector series of bottles. Not only is the wine enjoyable to drink but will bea fun to collect and showcase in your cellar.